Pokemon and Marlboro -- Just Don't Mix
Tuesday, January 4, 2000
A concerned citizen contacted our organization about a week ago. She noticed a display behind the cash register in Walgreens that contained Pokemon items, tobacco products and Marlboro cigarettes.
The tobacco industry couldn't have planned this better. Bring your children with you to the checkout stand. As you pay, they are magically drawn to the Pokemon items. Subliminally, they begin to focus on advertisements for tobacco, cigarettes and Marlboro products. The illustration below comes from the Walgreens store. The Pokemon section is surrounded by tobacco products. The green sign in the middle (highlighted in blue bubble) reads, "CHECK IT OUT KIDS!! GET YOUR POKEMON TRADING CARDS HERE!!"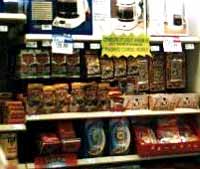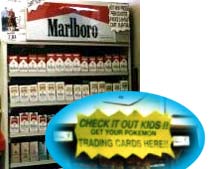 The tobacco industry has a long history of soliciting support from health-related establishments. Recently uncovered internal industry documents reveal their strategies [1]. The Tobacco Institute engaged retailers such as Walgreens to defend the tobacco industry in the "smoking and health controversy." A confidential 1977 memo to William Kloepfer (of the Tobacco Institute) from Horace Kornegay (also of the TI) discusses the possibility that the Walgreens Drugstore chain could help them promote disinformation about the link cigarettes and health:
"We may have an opportunity to engage another project similar to the one with Mr. Munford of the Majik Markets....Curtis Judge...told me about [a] meeting with David C. Carlson, manager of News and Information Services for Walgreen Drugs. ...Carlson expressed in interest in being of assistance to the tobacco industry in getting the true word put about....Curt suggested that I call Mr. Carlson which I have done. He indicated a real interest in being of every possible assistance to us...I further told him that I would call him in about two weeks and that we would agree upon a mutually convenient time and place to meet and discuss what and how he and his company could be of help."
(http://www.tobaccoinstitute.com/cgi-bin/tisearch.exe?if=avtidx&bool=TIMN0083434)
Indeed, the Tobacco Institute pursued their plan, sending a letter to Walgreens describing how Majik Markets had helped them, and proposing Walgreens do the same (at TI expense):
(http://www.tobaccoinstitute.com/cgi-bin/tisearch.exe?if=avtidx&bool=TIMN0083433)
Walgreens was extremely eager to help, even volunteering to the Tobacco Institute that their position as a "health center" could be of great benefit to industry in such a campaign.
TobaccoFreedom.org visited the local Walgreens on a number of occasions. We complained to the assistant store manager, and he LAUGHED at our representative. He ridiculed her for beliving that product placement such as this could lead to an increase in tobacco use among children. She followed up by sending an email to the national headquarters. Yet, the display remained: Pokeman surrounded by chewing tobacco on the left, cigarettes on the right, and cigars beneath.
How did Walgreens handle her email. They casually responded that she needed to send her comments to a different department. Please help the youth of America. Contact Walgreens at either the store location (Isleta and Rio Bravo) or use their Web site listed below.
> Thank you for writing to Customer Service at walgreens.com. Although I am not able to
> answer your question directly, your comments are very important to us.
> Please click on the link provided below to fill out a customer comment form.
>
> http://www.walgreens.com/help/custserv/email.jhtml
>
> Our Consumer Relations department will respond to you as soon as possible. If you would like to
> contact Consumer Relations directly, you may also contact them by US Mail or phone at:
>
> Consumer Relations
> Walgreen Co. - Mail Stop #2273
> Deerfield, IL 60015
> 1-800-289-2273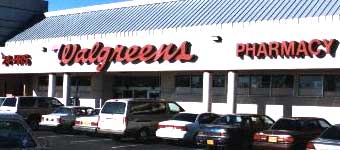 Walgreens responds [January 26, 2000]
Thank you for taking the time to email our Corporate Offices. On behalf of Walgreens and our entire Store Team at our 1625 Rio Bravo Boulevard location, please accept our sincere apologies for any inconvenience and or disappointment we may have caused you with the Pokemon and Marlboro display and also the level service received.
I have shared your concerns with Mr. Rob Hasty, District Manager and Mr. Oscar Madrid, Store Manager for this location. They too share in your disappointment. Please be assured that Mr. Madrid has reviewed with his entire store team the level of courtesy and professionalism we expect our employees to demonstrate at all times. As you have requested, the display has been removed.
You are a valuable customer and we value all comments received. Without our customers input we cannot improve those areas of our store operations that need correction. We hope after some deliberation that you will allow our 1625 Rio Bravo Boulevard location another opportunity to serve your drug store and prescription needs.
January 31, 2000
From: Rep. Miguel P. Garcia
To: TobaccoFreedom.org
"I applaud your efforts in tackling those promotional efforts to attract more youth to become smokers. If you wish, in any future correspondence to Walgreen's, feel free to use my name in opposing those types of advertisements that promote the popularity of smoking -- geared at youth.
Keep up the good work in being an anti-tobacco advocate."
Su Mas Atento Servidor,
Miguel P. Garcia
Sources:
Title: [REQUEST FOR INFORMATION ON TI AND INDUSTRY POSITION FOR INFORMATION CAMPAIGN]
Type of Document: Letter
Author: Carlson, DC of Walgreens
Recipient: Kornegay, H of the Tobacco Institute
Date: 19770316
Site: Tobacco Institute Document site http://www.tobaccoinstitute.com
Page Count: 1
Bates No. TIMN0083435
URL: http://www.tobaccoinstitute.com/getallimg.asp?DOCID=TIMN0083432
Litigation Usage: N/A
Quote:
Thank you, Mr. Kornegay, for taking time from you busy schedule to chat with me about the tobacco industry...
We are exploring the possibilities of an information program which will help both the tobacco industry and ourselves... [a]s an established "health center", there are many, many things we can do to "gain and maintain the understanding and support of the public."
Thanks to Anne Landmand, American Lung Association of Colorado and M. Tac Tacelosky, Smokescreen for their work on this important issue.