If you thought the industry would just burn out, think again - cigarette makers look impervious
Monday, May 14, 2001
By David Isaac
Investor's Business Daily
Despite falling U.S. cigarette use for 20 years and legal liabilities that approach half a trillion dollars, the tobacco industry seems immune to efforts to, well, stub it out. It's easy to see why. Ever-higher retail prices and growth abroad have offset the U.S. decline.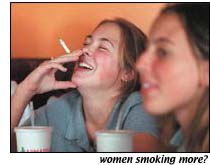 After falling about 2% a year for two decades, cigarette use fell 9% in 1999. The reason? A price spike of almost $1 a pack after the Master Settlement Agreement, or MSA, cigarette makers cut with states. It settled Medicaid claims over smoking-related ills in 46 states. The industry agreed to curb its ads and pay $246 billion over 25 years. Since then, use has resumed its yearly 2% decline.
Image: Trends To Watch
Not only has the industry rebounded from the MSA, the legal climate has improved. A federal suit may be tossed. The industry is appealing last year's Florida state case, which awarded plaintiffs a record $145 billion. And federal and state courts have rejected many other class-action cases.
1. BUSINESS
Three firms hold 86% of the U.S. cigarette market: Philip Morris with 50.5%, R.J. Reynolds with 23.6% and Brown & Williamson, owned by British American Tobacco, with 12%. Philip Morris had a 17% operating margin in 2000. That includes its Kraft food unit. RJR's 2000 operating margin was 11%.
U.S. tobacco does well abroad, where American brands are a hit. Philip Morris owns seven of the top 20 global brands, including Marlboro. It controls 60.3% of Italy's market, over 30% in France and Spain, and 21% in Japan. That's where the growth is, says analyst Tim Swanson of A.G. Edwards & Sons. Companies take cash earned here and invest it overseas, he says.
Leaf dealers look abroad, too. They buy tobacco from growers and sell to manufacturers. The largest is Richmond, Va.-based Universal Corp. Three-fourths of its business is abroad, up from half five years ago, says James Starkey, head of government affairs. In the last five years, the U.S. tobacco harvest has dropped about 50%. That is a result of taxes, price hikes after the MSA and anti-smoking lobbying, Starkey says. Name of the game: For cigarette makers, brand marketing is crucial, particularly in the U.S. Even with ads curbed, they can still promote in magazines and through direct mail. A strong brand makes for loyal smokers. That lifts market share and profit. For leaf dealers, it's meeting the precise demands of the manufacturers, running efficiently and controlling inventories.
2. MARKET
Worldwide smoking tops 5 trillion cigarettes a year. But price hikes and the awareness of health risks have slashed smoking in the U.S. Federal and state taxes are a big part of the price hikes. They made up 21% of Philip Morris' $80 billion in sales last year and 35% of its tobacco sales. The government makes more per pack than does any cigarette company, Swanson says.
Since U.S. use is falling, companies look abroad, where smoking climbs 1% to 2% a year. U.S.-brand smokes have seen annual growth of 3% abroad since 1990. Players have staked their claims. Philip Morris is strong in Europe and Japan. It's building in Russia too, says analyst Marc Cohen of Goldman Sachs. British American Tobacco has made strides in Latin America. The only growing part of the U.S. market is smokeless. The top U.S. firm is Greenwich, Conn.-based U.S. Tobacco. It has a 50% share with its Skoal and Copenhagen brands. Smokeless tobacco benefits from the rules and taxes on cigarettes, says UST spokesman Mark Rozelle. That includes bans on public smoking. There's room to grow. "We estimate there are 5 million adult users of smokeless tobacco," Rozelle said. "You've got an adult user base of 50 million smokers. Forty percent are looking for alternatives."
Small firms are also on the rise. Cohen says they have about 5% of the market. These makers of low-priced cigarettes benefit indirectly from the MSA, which drove up prices. Some sell cigarettes for $1 a pack. Big brands fetch $4 a pack.
3. CLIMATE
The legal and regulatory climate continues to improve. Last year, a judge dismissed two of the three claims in a federal racketeering suit against the industry. The new Bush White House may not fund that suit much longer. The industry is appealing the Florida Engle case. Analyst Cohen called the court's finding, which awarded $145 billion to 500,000 people based on three individual cases, "the most egregious violation of common sense I've ever seen." On May 7, a Florida court stayed the punitive damages.
Also last week, three of the five companies in the suit made a deal to protect them should they lose the appeal. They've put $708 million into an escrow account that will be given to the court no matter who wins. In return, the plaintiffs won't try to make the companies put up more bond money.
In the hope of "providing stability" in the future, Philip Morris is pushing for Food and Drug Administration oversight of tobacco. Despite the risks of handing the government control over a product dogged by controversy, both Swanson and Cohen think Philip Morris' plan is wise. "There's a new generation of tobacco-based products on the horizon," Cohen said. "And companies are looking for rules of the road under which these products can be marketed."
Smokeless tobacco makers were never the targets of suits, UST's Rozelle says. Only one product liability case went to trial. That was in 1986. The industry won. Even so, UST signed an agreement with 45 states. It's the only smokeless tobacco maker to do so.
Leaf dealers are in fine shape. Global demand for tobacco continues to grow, and general market conditions are improving, says R.E. Harrison, chief executive with Wilson, N.C.-based Standard Commercial Corp. It's the No. 2 dealer behind Universal. Last month, it raised its fiscal 2001 earnings views from $1.20 to $1.45 a share. It earned 80 cents last year.
4. TECHNOLOGY
Expect a raft of new tobacco products. One company is working on a tobacco lozenge to help people stop smoking. UST is working on a "spit-free" smokeless tobacco. There are also efforts to cut nitrosamines, the major cancer-causing agents in tobacco. Vector Group Ltd. has developed a genetically altered tobacco that cuts nitrosamines and inhibits the formation of nicotine.
Leaf developers have gradually improved processing and made factories more efficient. "Other industries have been past masters at managing their facilities more effectively from a quality standpoint. I think tobacco on the processing side is starting to catch up with that," Standard Commercial's Harrison said.
5. OUTLOOK
The industry thinks it's through the worst of the suits. And if Philip Morris' plan to give FDA oversight works, Cohen and Swanson say, it will provide a framework for companies to market their products. Leaf dealers say worldwide consumption of cigarettes continues to grow, though slowly. As that happens, more leaf tobacco is required. Upside: Though smoking in the U.S. is falling, U.S. cigarettes are popular abroad. Since American blends require better tobacco, this is a plus for leaf dealers in IBD's index. They have operations in countries that grow high-quality tobacco, such as Brazil, Zimbabwe and Malawi. Risks: There are still litigation risks. Economic conditions can worsen and derail growth. There are also risks of more government rules. Leaf dealers worry about political unrest in some tobacco-growing countries, like Zimbabwe.