In a 1994 speech to the National Association of Convenience Stores, Philip Morris executive Jack Dillard reported "approximately 25% of all smokers switch brands every year -- 30,000 every day. Like other companies, Philip Morris used coupons and samples to attract consumers to our brands." The industry refers to this activity as Promotional Allowances (
read industry comments about Promotional Allowances
). While the FTC report shows advertising and promotional spending increased dramatically over the past years in most areas, the greatest spending increases have come in the form of Promotional Allowances. The illustration below tracks industry Promotional Allowances spending over time. FTC figures show that for the first reported year (1970), the industry allocated 9.4% of their $361 million dollar budget to Promotional Allowances. By 1996 (most recent available data), the industry had exponentially increased Promotional Allowances to 42.1% -- over $2.150 billion dollars.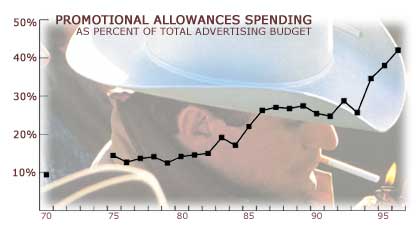 Actual tobacco industry documents portray a different picture about the "switching game." From the 1988 report, we learn that, "Marlboro's biggest source of smokers continues to be smokers with 'no previous brand,' roughly half of whom are starting smokers. In 1987 this group contributed 33% of Marlboro in-switchers. Internal Marlboro switching is the second largest component... Over the last 3 years more in-switchers have come from competitors Winston, Salem, and Camel" (7, 7, 4 percent respectively) [
page 2
,
19
].
How big a problem is "out-switching" to a company such as Philip Morris? Statements from the 1988 document reveal that, "Competitive outswitching decreased slightly from 5.4% to 5.2% of the franshise in 1987. Both years are well below the 1985 figure of 7.0%" [
page 17
]. This document notes the discount cigarette market poses the greatest threat to the established brands. Simply put, established smokers are more sensitive to price than they are to advertising.
Advertising is for kids! Silly rabbit.
Specifically, "For the total industry Price Value took 20% of all switchers. Marlboro's losses to PV were proportional to the industry's. Winston, Salem and Camel gained slightly more smokers than they gave up to Marlboro" [
page 17
]. This Philip Morris market study also revealed that, "The limited switching data available indicate that Marlboro Menthol is drawing a substantial number of Kool smokers, followed by Newport and Salem. Still, 20% of the in-switchers are from another Marlboro packing."
Interestingly, "More than half of Marlboro outswitchers move down the tar spectrum. [Marlboro] Lights catches a fraction of these; most leave the brand to completing
[sic]
low tars or ultra lows. Approximately one quarter of Marlboro outswitchers move to full flavor products, direct competitors of Red and Gold" [
page 18
]. Marlboro outswitchers were abandoning their regular Marlboro cigarettes, a full-flavor (high tar) brand, as consumers sought "more healthy" cigarettes. Advertisers rarely make tar level comparisons -- tobacco advertising focuses on image creation.
NOTES:
[1] The six largest cigarette manufacturers in the United States (in alphabetical order) are: Brown & Williamson Tobacco Corporation, Commonwealth Brands, Inc., Liggett Group, Inc., Lorillard Tobacco Company, Philip Morris Incorporated and R.J. Reynolds Tobacco Company. [top]

[2] Download PDF copy of 2001 FTC Cigarette Report for 1999 (158k). [top]

[3] CURRENT BUSINESS SITUATION [top]
19880700/E
BRAND REVIEW
Source: Philip Morris -- 2048678626/8644
[1] [2] [3] [4] [5] [6] [7] [8] [9] [10] [11] [12] [13] [14] [15] [16] [17] [18] [19]


© Copyright InfoImagination, Scott Goold, director